Mixtape #05
I proclaim myself to be a video-game Luddite! I cant play first-person games and I get headaches in a "3-D" environment :-(So I'm enamored with the 8-bit era and am discovering the influence it has on the music scene. More and more I am hearing MIDI-type sounds and gamey sound effects on my favorite jams. That is why my new mixtape is dedicated to this
musical pixelation
. I Love 8-bit!
The must-hear tunes are: the new
Helio Sequence
song, which I hope is a preview of their new album; a new and refreshing song from
The Shins
, and a great hip hop track by
Mega Ran
dedicated to the only female robot boss in the Mega Man series :-D
1. Loro - Pinback
2. Monogamy Is a Type Of Wood- The Darchives
3. Wet Hair (Japandroids) - Teen Daze
4. Cable TV - Fol Chen
5. It's the Chemicals feat. Scarub (Dodo mix) - Inspired Flight
6. Turn It Off - Phantogram
7. When I'm Yours - Film School
8. Goodbye Girl - The Shins
9. Splash Woman - Random a.k.a. Mega Ran
10. Mingus And Pike - The Ruby Suns
11. Heavy Heaven (demo) - Egyptian Hip Hop
12. Stay Close - Delorean
13. Converter - The Helio Sequence
14. Feel It All Around - Washed Out
15. Laura - Mates Of State
16. We Don't Want Your Body - Stars
17. The Early Sheets - The Lost Levels
18. Is This My New Career? - Oucho Sparks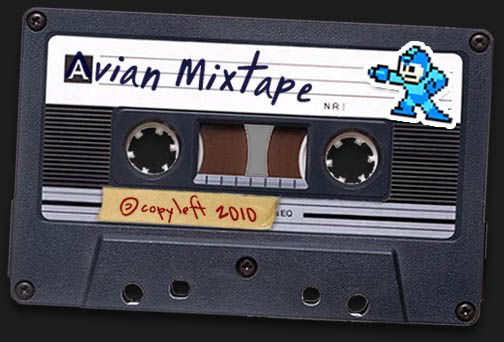 We begin with
Pinback
doing a mellow intro. Then the MIDI sound kicks in with
Monogamy...
by
The Darchives
.
Cable TV
is a fun track about a fling in a motel featuring some wacky SFX. Then you're treated to a confluence of rock and hip hop by the breakthrough act
Inspired Flight
.
Phantogram
picks up the energy and runs with it. Then we get a litle mellow with some old indy faves like
Film School
,
Mates of State
and the mighty
Shins
who turn out some wonderful new stuff.
Delorean
makes yet another appearance (cant get enough of these Barcas)... who open up nicely to the awesome new song
Converter
by my all-time favorite band.
But the fun doesn't end there!
Washed Out
keeps true to their name with their lo-fi soundwaves. You gotta hear a great demo from
Egyptian Hip Hop
- these dudes sound promising. To top off the list we have an apt noisy-pop track from
Stars
off their recently-released album, a cool 8-bit sound from
Lost Levels
(if that isn't the most videogamish of names...) and, to leave the set strongly, the most bad-ass of avant-garde mushroom jazz musicians (I have a hard time classifying these monsters),
Oucho Sparks
!
~ Doooo it!!!
AvianEddy presents:
I ❤ 8-bit

Pixelated Music Playlist

---

~avian